Obviously as is we are not going to make CO2 reduction targets. We have more cheap carbon fuels than we know what to do with and there is not sufficient incentive to curb their use or increase the one meaningful clean alternative that generates on demand in sufficient quantities - Nuclear (only 2 new plants have been approved).
We are probably to the point where serious environmentalists need to cut ties with the "green" political movement as their polices diverge from responsible environmentalism, and indeed are beginning to run counter to them.
Specifically:
1. The anti nuclear movement that seeks to eliminate the nuclear power option.
2. Anti modern agriculture movements that seek to eliminate all pesticide and/or biotechnology use in agriculture.
3. Radical "social justice" movements that block climate/environmental agreements for unrealistic or unrelated objectives.
Evidence would seem to indicate some "green progressives" are siding with the natural gas industry; intentionally or not in expanding gas infrastructure (in coal and oil replacements and co-generation with renewables) in a probable attempt to unseat nuclear power at all costs.
In the end the numbers wont and cant lie.
Notes: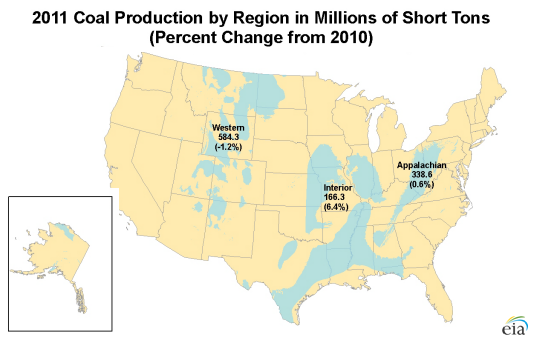 U.S. coal production rises slightly in 2011 amid lower domestic demand and higher exports
Drillers cut natural gas production as prices drop
The company said that about 85 percent of its nationwide drilling expenditures this year will be toward the more profitable wet gas.
US Natural Gas – Spot Price Low, Inventory High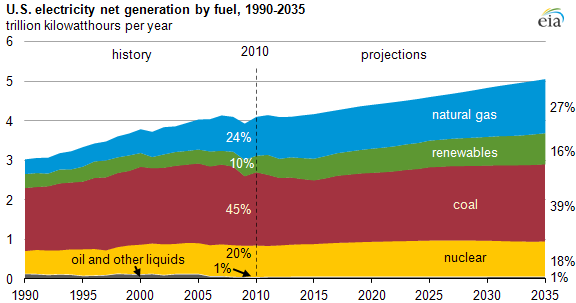 Annual generation from natural gas increases by 39% from 2010 to 2035. Eighty-five gigawatts of new gas capacity is added through 2035, as stable capital costs and low fuel prices make it the most attractive source of new capacity.
Renewable energy generation grows 33% from 2010 to 2035. Non-hydro renewables account for a majority of this growth, with wind, solar, biomass, and geothermal generation all significantly larger at the end of the projection horizon.
Coal's share of the electricity generation mix drops from 45% to 39% between 2010 and 2035. Thirty-three gigawatts of coal capacity are retired and only 14 gigawatts of new coal capacity already under construction are completed. A few factors disadvantage the relative economics of coal-fired capacity: projected low natural gas prices, the continued rise of new coal-fired plants' construction costs, and concerns over potential greenhouse gas emissions policies.
Annual generation from nuclear power plants grows by 11% from 2010 to 2035, but its share of the generation mix declines. A total of 10 gigawatts of new nuclear capacity are projected through 2035, as well as an increase of 7 gigawatts achieved from uprates to existing nuclear units. About 6 gigawatts of existing nuclear capacity are retired, primarily in the last few years of the projection.
First nuclear reactor approved in U.S. since 1978
Total estimated emissions for all industries, excluding the power and gas sectors, reached 442 million tonnes, the report said, nearly equal to emissions recorded in fiscal 2010.
Japanese utility Hokuriku CO2 emissions rise 44 pct
If you think environmental firms wont or cant promote fossil fuels READ THIS:
The American Way to Natural Gas Vehicles -- and Investor Profits
and more generally on the lobbing front:
T. Boone Pickens visited White House seven times